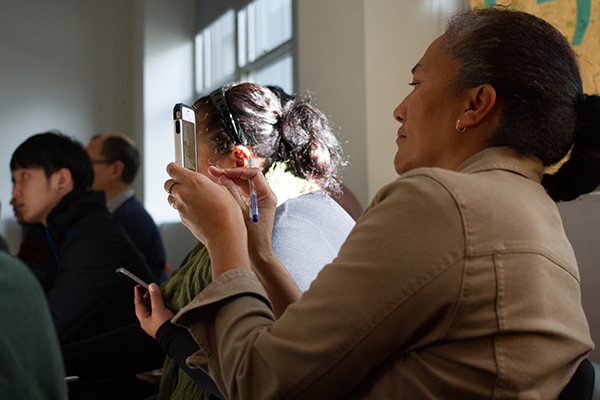 The Mobile Innovation Network Australasia, MINA, runs Smartphone Filmmaking & Social Media Content Production workshop for creatives, community groups & organisations and anyone with a smartphone.
Explore how you can use apps like Filmic Pro, Luma Touch and Instagram video to tell interesting stories.
You will learn the basic in visual storytelling (including cinematography: composition and framing; editing: duration, rhythm and pacing; and audio and sound recording) on any smartphone or pocket camera.
You can see what gear pro smartphone filmmakers use for short and feature films. We will discuss creative processes in narrative, experimental and documentaries. The MINA Creative Collective lead by Max Schleser will give you an overview of the many styles and techniques used to create films using smartphones. They will explore the ideas, scripting, shooting and editing processes to enable you to produce your own film; whether it's a documentary, promotional video, experimental film or the next viral hit.
Max Schleser is a filmmaker, who explores emerging media and smartphones for creative transformation and media production. Max conceptualized and conducted numerous mobile and smartphone filmmaking workshops with 21cc, the educational link of the BBC, local councils (Ministry of Social Development, NZ, Tower Hamlets and Sutton Youth Services, UK), community groups (Spirit of Rangatahi / Pasifika Youth Empowerment Programme) and festivals (Edge of the City, HeART beat, Digital NatioNZ, Festival for the Future, Mobile Art Conference and East End Film Festival) in London, Ekaterinburg, New York, Wellington and Auckland. (Further infos https://vimeo.com/maxschleser and https://www.linkedin.com/in/maxschleser/)
Workshops can be run in a day, over a weekend or a number of days. MINA will develop an outline suited to your skills and interest. The workshop schedule can be tailer made for your organisation or project including the following elements:
– Screening of Smartphone films (best of MINA)
– Crafting great narratives… | What is YOUR story ? | How stories engage & connect
– Storytelling process overview
– Workshop participant's story idea
– Getting stories out there
– Documentary & Experimental smartphone films
– Smartphone footage in a feature Documentaries & TVCs
– Tech talk: Adobe Premiere Clip / Filmic Pro / LumaTouch / XLR mics and iRig Recorder
– Using Social Media for Compelling Storytelling
– Embracing the Everyday & Creative Moments
– InstaWorkshop: Utilising and Manipulating Social Media Platforms
Depending on your background you will receive project based advice on your project by the MINA creative collective. Your project can be in any stage during production (pre-production, production or post-production).
We will showcase additional filmmaking gear and apps, helping you to make decisions about what is the right choice of cameraphone and equipment for your project and budget. Participants will practice their new skills under the guidance of the workshop tutors and can complete a short project.
We are looking forward to see your project at the MINA International Mobile Innovation Screening.