Mobile Filmmaking Workshops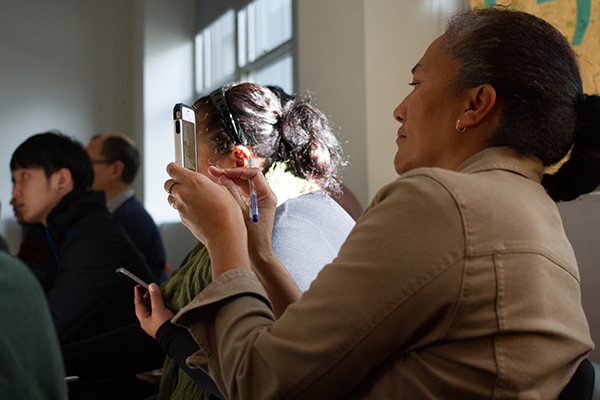 MINA co-founders, Laurent Antonczak and Max Schleser run mobile filmmaking workshops for industry professionals, community groups and organisations.
Go beyond Vine, Snapchat, and Instagram video… tell interesting stories through effective editing, sound, and creative processes all from your mobile phone or tablet.
Workshops can be run in a day, over a weekend or a number of days. MINA will develop an outline suited to your skills and interest. Max and Laurent will give you an overview of the many styles and techniques used to create films using a mobile phone. They will explore the ideas, scripting, shooting and editing processes to enable you to produce your own film; whether it's an educational video, experimental film or the next viral hit.
Workshop participants will work with a number of smartphone apps and create short mobile-mentaries (mobile documentaries) and viral videos. The workshop will include ideation, mobile storytelling, technical and filmmaking tips and advice in a hands-on session.
Who should attend?
Anyone! As long as you are creative, enjoy using your smartphone, and like to tell stories. We recommend that you have some editing experience, at least with iMovie or Windows Media Player. Please bring your own mobile phone, charger, and a USB stick to the workshop.
During the last years workshops were held at the Festival for the Future, Te Papa Museum, Co0.ab, Massey University, Digital NatioNZ, MINA Mobile Creativity and Mobile Innovation symposium.
The aim is to experiment with the mobile phone to see what works… or does not while discovering a new medium and developing relevant content for mobile devices.
The workshops can focus on SOCIAL ENGAGEMENT, COMMUNITY INVOLVEMENT, VIRAL MARKETING FOR A FEATURE FILM, INTERACTIVITY, GAMING, DIGITAL STORYTELLING or MOBILE SOCIAL MEDIA.