Mobile Journalism Awards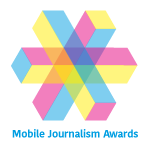 The Mobile Journalism Awards honor the best mobile journalism reporting each year.
#MojoAwards are organized by a partnership of journalism schools and non-profits to recognize excellence in non-fiction visual storytelling.
The work selected by an international jury were to be screened between April and July at global journalism festivals and projected in cinemas.
The premiere screening of the BEST IN MOBILE JOURNALISM was scheduled for the International Journalism Festival in Perugia Italy.
(There are gear prizes for winners. They were donated by top manufacturers)
The competition recognizes the best video reporting and documentary stories being produced with smartphones and pocket cameras.
             www.visualeditors.com/mobile-journalism-awards