We are mobile and run presentations and workshops online or at your festival, event or venue
Max Schleser from MINA has presented at a number of festivals such as Pause Fest (2018) Melbourne, St Kilda Film Festival (2018 & 2019), Documentary Edge Festival (NZ – 2016), Festival de La Imagen (2014), International Mobile Storytelling Congress (2020) and Adobe Summits (2016 & 2019). Presentations can be short ignite talks or  lectures. Workshops are three hours to three days depending on the number of participants and output formats (ie social media or short film for screening).
Adrian presented at the Smartphone Filmmakers and Social Media Content Creators meet-up, YAVA Arts Gallery and CineSpace. His films are regularly screened at international smartphone film festivals.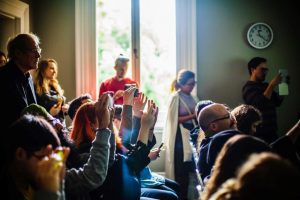 Max Schleser has taken up invitations to run workshops at the Tisch School of The Arts, New York University, New York, USA (2011), Interactive Entertainment Conference, Auckland, NZ (2013), Edge Of The City Film-Festival, London, UK (2012), Celu-Lab Plataforma Colombia, online (2012), Festival For The Future, Wellington, NZ (2011), Co-Lab, Auckland, NZ (2013) and 21cc, the educational link of the BBC, London, UK (2005) among others.